Ad.
Just for clarity let me say that despite this post saying 'ad' I was not paid for this review. However, I did receive early access to the expansion pack and that is what has enabled me to review it before release (thanks EA!).
All posts by Uk creators who have received a game code should say 'ad' now regardless which I guess makes sense when we've been given a game code.
YouTube videos should also include the 'paid promotion' message which means people will obviously see that and think the creator has been paid… because that's what it says… but that isn't always the case now. Confusing… anyhoo…. horses.
I know I said I wouldn't post about The Sims 4 again, but this pack truly intrigued me. So, here I am, ready to share my thoughts on The Sims 4 Horse Ranch Expansion Pack—a wild ride into the world of equine adventures! Please brace yourself for puns.
From the neigh-bourhoods of Chestnut Ridge to the hoof-tastic features like horse customization and competitions, this pack delivers a stable full of content to satisfy even the most ardent horse lover. So, let's saddle up and dive into this review.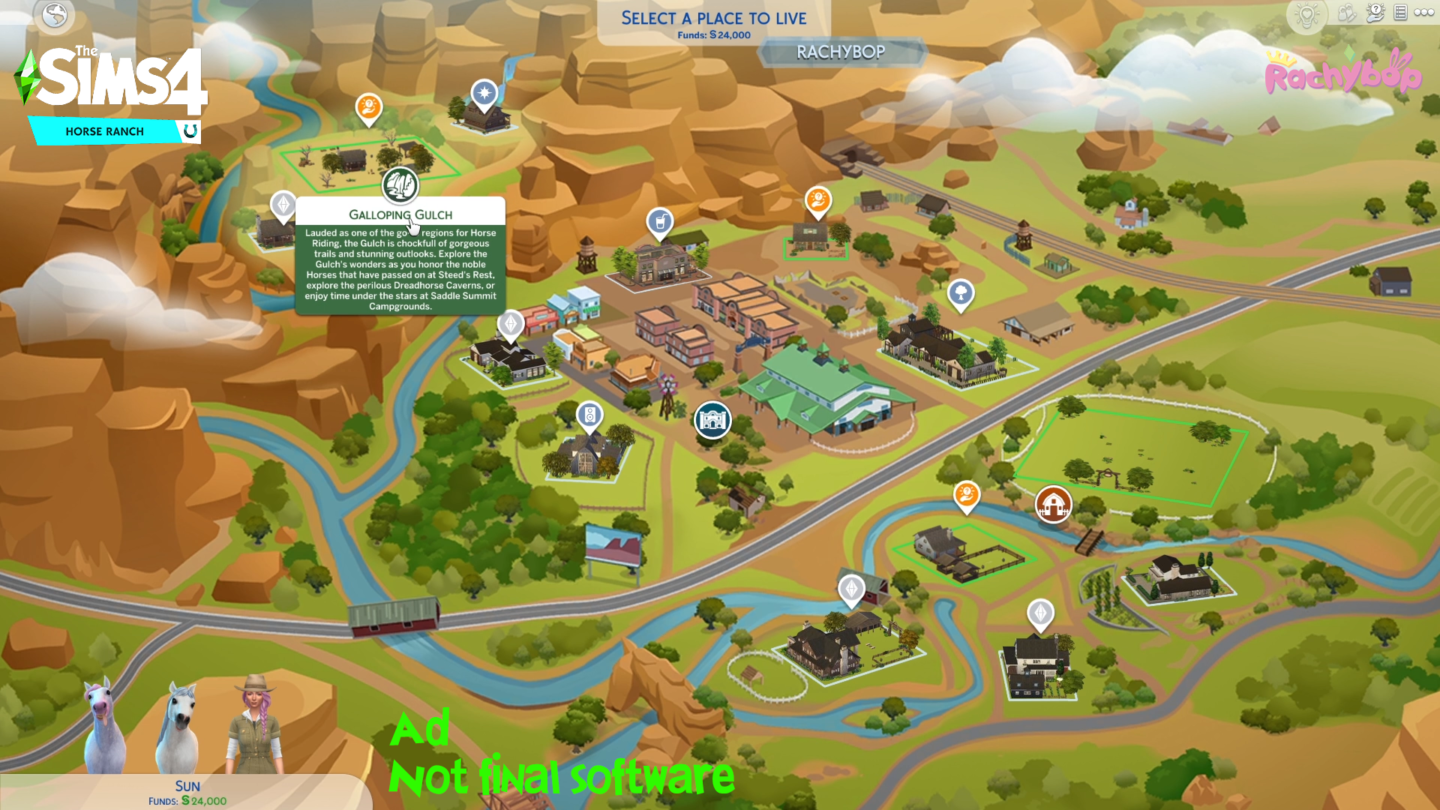 Chestnut Ridge and Its Neighbourhoods: Hold on to your reins as we embark on a journey to Chestnut Ridge, a picturesque world that's sure to stir your equestrian soul. Whether you take a relaxed ride through Rider's Glen, an intense ride in New Appaloosa, or energetic in Galloping Gulch, each neigh-bourhood offers its own unique charm and exciting opportunities for horse enthusiasts. They are all a little on the empty side but the game does a fairly good job of spawning in sims once you get there.
Horse Customization and Features: Stirrup Some Fun! Get ready to hoof it to the next level with horse customization. Unleash your creativity and personalize your horses with a wide range of traits that'll have you saying, "Hay, that's one unique horse!" From molding their personalities to developing their riding skills, you'll feel like the ultimate horse whisperer. And don't forget the exhilarating horse competitions that will make your heart race as you witness the true horsepower of your trusty steeds rabbit hole. Please remember, this is The Sims 4. The game that took 'The possibilities are endless' and changed it to 'Please manage your expectations'.
Miniature Goats and Sheep: Prepare for cuteness overload! Alongside the majestic horses, The Sims 4 Horse Ranch Expansion Pack introduces miniature goats and sheep to the ranch. These little fellas will "ewe-nite" your Sim's life with their playful antics and "baa-rilliant" charm. They are less than chickens were in cottage living imo but it is very cute watching them jump around. You can get milk and wool from them respectively and have some sweet interactions but there's no golden goat or sheep-instigated death, unfortunately.
Ranch hands, Nectar-Making, and More: Unbridled Fun Awaits! Who says it's all about horses? The Horse Ranch Expansion Pack offers more than just riding and grooming. With the addition of ranch hands, your Sim's ranch operations get an extra pair of hands (or hooves!) to help manage the daily tasks, you can even control how hands-on you want them to be. And if that's not enough, the art of nectar-making adds a touch of sophistication and flavor to your Sim's country lifestyle. A lot has gone into this area of the game that I am yet to fully explore. So saddle up, get those grapes, and let the nectar flow!
New Create-a-Sim Features: Your Sims deserve to shine in the equestrian world too! With the Horse Ranch Expansion Pack, they can don country-inspired clothing, flaunt hairstyles that scream rustic charm, and embody the essence of the horse-loving lifestyle (mucky swatches galore!).
Country-Themed Delights: Howdy, Simmers (or is that Suly Suly?)! Prepare to be "horspiciously" entertained with the country-themed delights in this expansion pack. From toe-tapping country music that'll make you want to "hoof it up" to lively line dancing that'll have your Sims kicking up their heels, the ranch life comes alive with every twang and step. But that gets old REALLY fast. There are new build mode items, new events (that I STILL can't complete because it takes an age for Sims to do anything in The Sims 4) and plenty of 'new' (rewritten for this pack) game mechanics to explore.
Conclusion: Giddy up and gallop into a world of horse-filled adventures with The Sims 4 Horse Ranch Expansion Pack IF YOU LIKE HORSES AND ONLY IF YOU LIKE HORSES… or are particularly fond of nectar, I guess. It's a hoof-tastic addition that offers an abundance of equine excitement, alongside cute miniature goats and sheep.
I had great fun playing this pack in all honesty and I believe you will definitely get your money's worth if you purchase it given the time it would take to explore and complete everything available and how much creativity you could express through making horses alone. But please remember this is The Sims 4 and a new pack doesn't change that. Bugs will be bugs.
Most of the new things are built upon the old (I suppose that's to be expected) with the majority of fresh new visuals coming from the horses (hence 'Horse ranch') it's not promising anything more than it delivers. The horses are truly beautifully done though. They're incredibly beautifully animated and I could stare at them all day!
I was slightly crushed that Unicorns are not a life-state but happy they included and accessory that has a little magic included.
No new woohoo spots and no deaths? What's that about?! Call yourself an expansion pack?! Good grief.
After playing this standalone build with just the base game and the horse ranch expansion I'm very excited to try out the pack with all the other packs and see how that plays out. If this pack did anything it at least got me back in my game.
Happy horsing around!
We are sorry that this post was not useful for you!
Let us improve this post!
Tell us how we can improve this post?