Presented by the EA Creator Network.
It's official!
A new game pack called 'My Wedding Stories' is coming to The Sims 4 next week!
Here's all the info from the official blog:-
"Introducing Tartosa, the most romantic world in all of The Sims™ 4. The sunsets are heartstopping, the beaches are breathtaking, the gardens are astonishing, and the waterfalls are awe-inspiring; Tartosa is a paradise made for love.
This idyllic world is the perfect place to celebrate your Sims' nuptials, from putting a ring on it to the renewal of vows, reflecting a true wedding and happily-ever-after experience! You'll be able to creatively discover different sides of oneself to plan out many versions of your Sims' dream wedding: the festivities leading up to the ceremony, participants, decor, dresscode, cake, location and more.
So without further ado, we now present Tartosa and a guided tour of The Sims 4 My Wedding Stories Game Pack.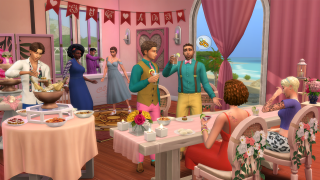 Pre-Wedding Festivities
A wedding doesn't start until your partner says "yes," right?
Enjoy the thrill of every major moment leading up to the Big Day, starting with your engagement. Although you can absolutely be the spontaneous type and elope at City Hall, you can also spend some time selecting that flawless ring in Create-A-Sim, picking the right time and location. When they say yes – because of course they will, you're a total catch! – you and your partner have the preference to host pre-wedding parties to celebrate the big news with family and friends.
Just like your wedding, your Sim couple can plan their Engagement Party, Bach Parties and/or Rehearsal Dinner any way they want, complete with the option of toasts, speeches, food, gifts and dancing, as well as the choosing of a Sim of Honor.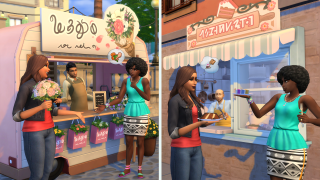 Ultimate Checklist for Planning Your Nuptials
The fun of planning all of the ceremony details may begin – and you can make your wedding(s) uniquely yours! You don't like to dance? Not a problem; we'll just prepare more food.
After you've established your Sim couple's likes, dislikes, wants and nots, you can move on to setting a date and choosing your venue. Tartosa is full of picturesque locations – from a Coastal Village to the Forested Inland – with everything you need to make your wedding day magical, including reverent residents and local lore. There's extravagant ballrooms, sunset-laden beaches, and peaceful gardens. We've partnered with community creators from different backgrounds to create lots that represent our community, like icemunmun's "Garden Palace of Vows," and "Centurial Harmony Garden" created by CatherineGamesYT.
Once you're in town, you can go to the local wedding attire boutique to try on a vast array of dresses and tuxedos. From traditional to modern, from flowy white gowns to the reds and henna typically worn by Hindu brides, there's a look for everyone. Then, you'll be able to visit the flower cart in the center of town to choose the bouquet you'll inevitably toss over your shoulder.
What's a party without a cake? Swing over to the patisserie shop to taste test and put your personal spin on your Sims' perfect cake from seemingly endless options and combinations – and don't forget your cake topper!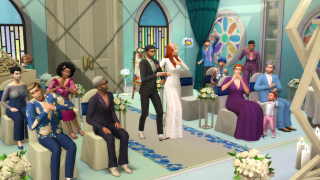 The Perfect Cinematic Wedding
Today's the Big Day and now it's time to revel in everything you've built. If you're celebrating a more traditional Chinese matrimony, you can start the day with a Family Gathering – the customary tea ceremony – serving refreshments to your respective families.
After slipping into your wedding attire, it's now time to start the Wedding Ceremony. Your guests will gather together to cordially await your arrival. Once you've sent down your flower pal and ring bearer down the aisle, if you so choose to, then you and your partner will do the same, either alone or with someone to give you away. Vows exchanged, I Do's certified, and the first kiss seals the deal. Congratulations, newlyweds! Let's party!
In the Wedding Reception, you'll have an opportunity to toss your bouquet, cut the cake with your partner, and even share your first slow dance as a married couple, complete with a rehearsed twirl-and-dip. Then, move over, lovebirds, the rest of the party wants to join you on the dance floor for some line dancing! It's electric!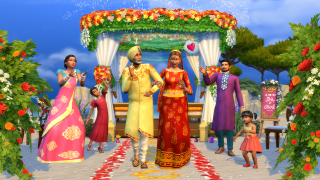 Memories to Last a Lifetime
You and your partner's celebration doesn't stop after the reception. You'll have a lifetime together to memorialize your matrimony, starting with the photos you captured and vacations you planned. Whether you stay in Tartosa or travel to another far-off world, you'll be able to enjoy your new life with an intimate vacation for two.
As you and your partner grow old, you two will also have the chance for Vow Renewal, reaffirming your love for each other in a smaller, simpler version of your wedding ceremony.
The Sims team wishes you and yours a sincere congratulations!"
The Sims 4 My Wedding Stories will be released on Feb 17th 2022!
There is so much stuff I'm intrigued to see in action in this pack.
If you fancy a happy cry, watch the trailer <3
We are sorry that this post was not useful for you!
Let us improve this post!
Tell us how we can improve this post?